I LOVE turning celluloid! Too bad it is so hard to obtain...
It is a wonderfully nice material to turn on the lathe, and yet produces reams of incredibly tough shavings. But the coolest thing of all is the powerful camphor smell while working this stuff. I had a cold while turning this one, and it was very soothing to work on - like working with a giant cough drop!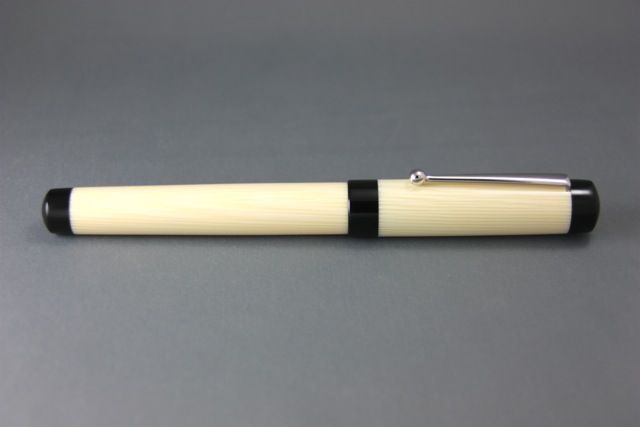 Celluloid is cool stuff. It is the first thermoplastic invented (back in the late 1800's!), and while not made very often any more, it is still much loved by pen makers and fountain pen aficionados for its appealing feel and smell. Of course the historic value as a vintage pen-making material doesn't hurt either...
The ivory celluloid is particularly lovely, with its prominent striations. I decided for this pen, rather than make the whole pen out of the same celluloid, to frame this material in black to help bring out its amazing grain.
I decided to make this pen a non-posting pen, as I didn't want to risk marking up the celluloid.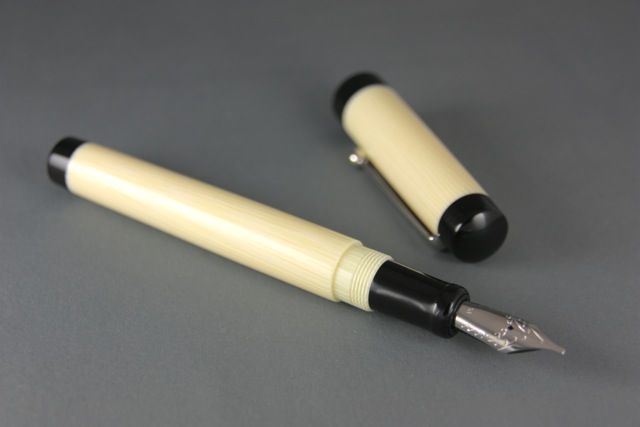 The nib on this pen is a JoWo steel 1.1mm stub, great for calligraphy (of course, since the nib units are threaded, the nib can easily be swapped for another). The fill system is, no surprise, cartridge/converter.
Thanks for looking. Comments welcome as always.
Ken